Functionality
Funktion
With Gausssuite one can trace Gaussian Beams through space and through lenses. The parameters can be freely adjusted by means of a graphical user interface (GUI). The parameters of the exit ray are computed and displayed. Moreover, one can choose one parameter for variation. Diagrams for all ray characteristics are generated with the varying parameter on the ordinate, of which one can be displayed.
Mit Gaussuite können Gausssche Strahlen durch den Raum propagiert werden und an Linsen gebrochen werden. Man kann die Parameter durch ein graphisches Interface (GUI) frei einstellen. Es werden die Parameter des ausgehenden Strahls berechnet und angezeigt. Außerdem kann ein Parameter ausgewählt werden und variiert werden. Es entstehen dann Diagramme der Strahlcharakteristika in Abhängigkeit dieses Parameters, von denen eines angezeigt werden kann.
Examples
Beispiele
The parameter computation of a typical laser beam one meter after the laser cavity:
Die Parameterberechnung eines typischen Laserstrahls einen Meter hinter der Kavitätsmitte: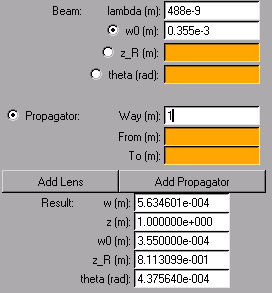 The trace of the beam waist
w
behind a lens:
Die Verfolgung des Beam Waist
w
hinter einer Linse: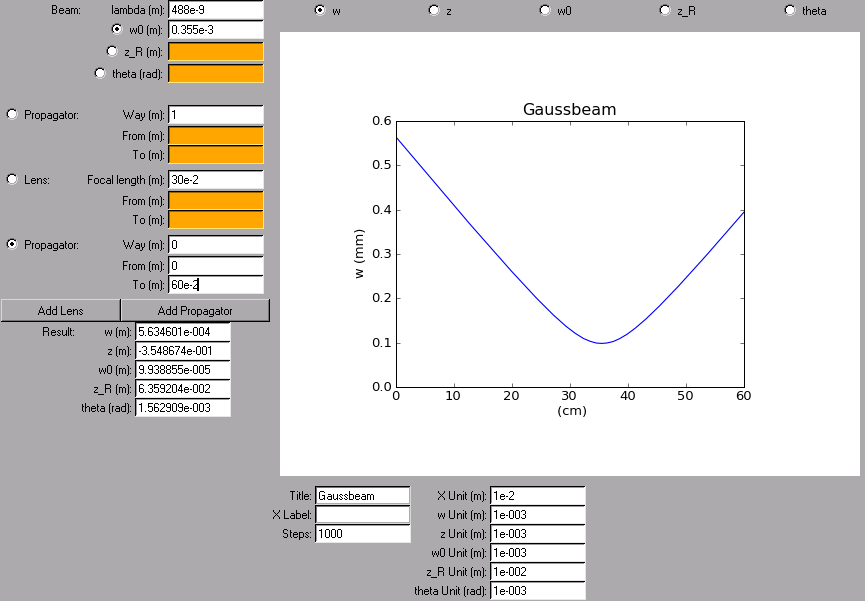 A somewhat more elaborate setup. The laser beam is transmitted through a telescope for broadening, and passes then an "objective" (an 150mm lens), in order to be focussed on the sample. One can see the sweep of the spot size by magnitudes by minimal adjustment efford. This is a real world example.
Ein etwas komplizierterer Aufbau. Der Laserstrahl wird durch ein Teleskop aufgeweitet, um dann vom "Objektiv" (eine 150mm-Linse) auf das Sample fokussiert zu werden. Man sieht, daß mit minimalem Verstellaufwand der Spotsize dramatisch geändert werden kann. Dies ist ein real-world-Beispiel.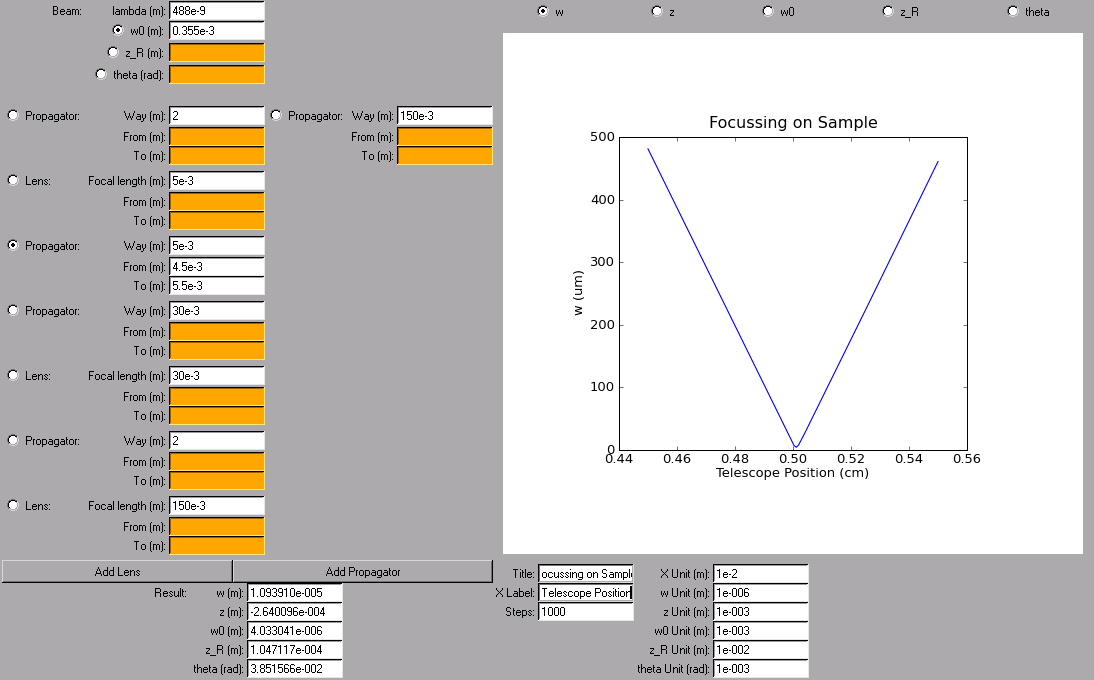 Operation
Bedienung
On top side the beam is specified by one of the offered methods.
Below the optical system is input. Output is always the exit beam out the complete optical system. So when one aims to trace a beam some few centimeters behind a lens, an optical propagator element is required behind the lens to reach the desired position.
The system is extended by
Add Lens
or
Add Propagator
, resp.
Below the exit ray is displayed in its local parameters. The values may be copied.
On the right side the diagrams are located. Top side is the choice of the beam characteristicum displayed. One chooses at the optical system side the optical element to vary and its range. Important: Always enter a default value, the algorithm needs this caress.
Below the units are entered, which are used to label the axes. Also title and xlabel are available for alteration. Besides the step count is adjustable.
Handling of the diagrams: Press left and hold and move mouse: zoom, press right and hold and move: pan, double right: PostScript save, double left: turn autozoom on (on by default). While zooming the location where the mouse button was pressed stays invariant.
Oben wird der Beam mit einer der angebotenen Methoden spezifiziert.
Darunter wird das optische System eingegeben. Ausgabe ist immer der Strahl hinter dem kompletten System. Wenn man also den Strahl einige Zentimeter hinter einer Linse wissen möchte, muß man noch einen entsprechenden Propagator hinter die Linse anfügen.
Das System wird mit
Add Lens
bzw.
Add Propagator
entsprechend verlängert.
Unten werden die lokalen Parameter der transmittierten Strahls ausgegeben. Die Werte können kopiert werden.
Rechts ist die Diagrammhälfte. Oben wird die Beameigenschaft ausgewählt, die ausgegeben werden soll. Man wählt in der Systemeingabe mit dem Radiobutton aus, welches Element variiert werden soll und in welchen Grenzen. Wichtig: Immer auch einen Default-Wert eingeben, der Algorithmus braucht diese Zuwendung.
Darunter wird eingestellt, in welchen Einheiten die Skalen beschriftet werden und wie Title und XLabel lauten. Außerdem können die Steps spezifiert werden.
Bedienung der Diagramme: Links drücken und halten und Maus bewegen: Zoom, Rechts klicken und halten und Maus bewegen: Pan, Doppel-Rechts: PostScript-Speichern, Doppel-Links: Autozoom on (an per Default). Beim Zoom bleibt die Stelle, auf die geklickt wurde, invariant.
Maintained since: 4/09
$Last changed: 10/09$